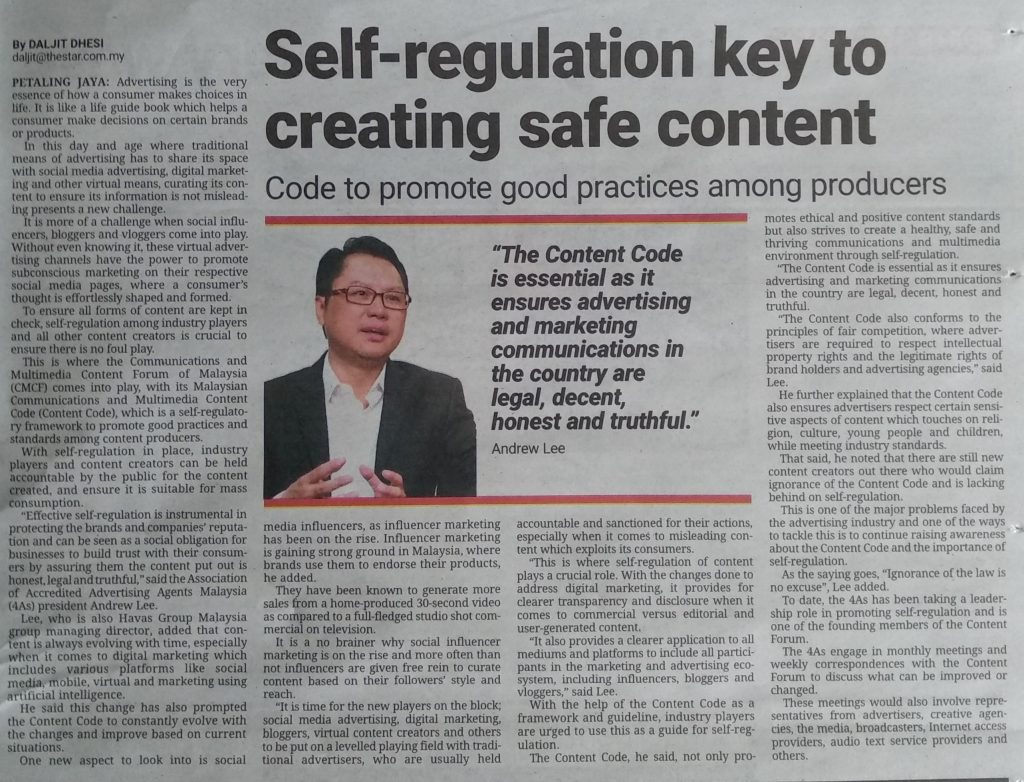 PETALING JAYA: Advertising is the very essence of how a consumer makes choices in life. It is like a life guide book which helps a consumer make decisions on certain brands or products. In this day and age where traditional means of advertising has to share its space with social media advertising, digital marketing and other virtual means, curating its content to ensure its information is not misleading presents a new challenge.
It is more of a challenge when social influencers, bloggers and vloggers come into play. Without even knowing it, these virtual advertising channels have the power to promote subconscious marketing on their respective social media pages, where a consumer's thought is effortlessly shaped and formed.
To ensure all forms of content are kept in check, self-regulation among industry players and all other content creators is crucial to ensure there is no foul play. This is where the Communications and Multimedia Content Forum of Malaysia (CMCF) comes into play, with its Malaysian Communications and Multimedia Content Code (Content Code), which is a self-regulatory framework to promote good practices and standards among content producers.
With self-regulation in place, industry players and content creators can be held accountable by the public for the content created, and ensure it is suitable for mass consumption. "Effective self-regulation is instrumental in protecting the brands and companies' reputation and can be seen as a social obligation for businesses to build trust with their consumers by assuring them the content put out is honest, legal and truthful," said the Association of Accredited Advertising Agents Malaysia (4As) president Andrew Lee.
Lee, who is also Havas Group Malaysia group managing director, added that content is always evolving with time, especially when it comes to digital marketing which includes various platforms
like social media, mobile, virtual and marketing using artificial intelligence.
He said this change has also prompted the Content Code to constantly evolve with the changes and improve based on current situations.
One new aspect to look into is social media influencers, as influencer marketing has been on the rise. Influencer marketing is gaining strong ground in Malaysia, where brands use them to endorse their products, he added.
They have been known to generate more sales from a home-produced 30-second video as compared to a full-fledged studio shot commercial on television. It is a no brainer why social influencer marketing is on the rise and more often than not influencers are given free rein to curate content based on their followers' style and reach.
"It is time for the new players on the block; social media advertising, digital marketing, bloggers, virtual content creators and others to be put on a levelled playing field with traditional advertisers, who are usually held accountable and sanctioned for their actions, especially when it comes to misleading content which exploits its consumers.
"This is where self-regulation of content plays a crucial role. With the changes done to address digital marketing, it provides for clearer transparency and disclosure when it comes to commercial versus editorial and user-generated content.
"It also provides a clearer application to all mediums and platforms to include all participants in the marketing and advertising ecosystem, including influencers, bloggers and vloggers," said Lee.
With the help of the Content Code as a framework and guideline, industry players are urged to use this as a guide for self-regulation. The Content Code, he said, not only promotes ethical and positive content standards but also strives to create a healthy, safe and thriving communications and multimedia environment through self-regulation.
"The Content Code is essential as it ensures advertising and marketing communications in the country are legal, decent, honest and truthful.
"The Content Code also conforms to the principles of fair competition, where advertisers are required to respect intellectual property rights and the legitimate rights of brand holders and advertising agencies," said Lee.
He further explained that the Content Code also ensures advertisers respect certain sensitive aspects of content which touches on religion, culture, young people and children, while meeting industry standards. That said, he noted that there are still new content creators out there who would claim ignorance of the Content Code and is lacking behind on self-regulation.
This is one of the major problems faced by the advertising industry and one of the ways to tackle this is to continue raising awareness about the Content Code and the importance of self-regulation.
As the saying goes, "Ignorance of the law is no excuse", Lee added.
To date, the 4As has been taking a leadership role in promoting self-regulation and is one of the founding members of the Content Forum.
The 4As engage in monthly meetings and weekly correspondences with the Content Forum to discuss what can be improved or changed.
These meetings would also involve representatives from advertisers, creative agencies, the media, broadcasters, Internet access providers, audio text service providers and others.