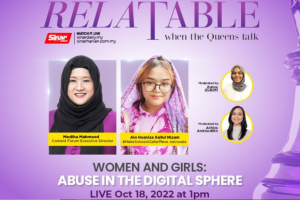 Relatable talk show to discuss on safety of women and girls in the digital sphere
SHAH ALAM – Women and harassment topics can never be separated, especially in an era where everything is accessible through gadgets and digital platforms.
Sinar Daily's live talk show Relatable will be back on screen with another topic entitled Women & Girls: Abuse in the Digital Sphere.
This topic will dive deeper into how women and girls were considered most likely to be victims of internet-facilitated violence.
Moreover, as the world reaches cutting-edge technology, they are also considered to be subjected to new forms of harassment, cybercrime and intimidation.
If this prevails, this will ultimately limit women and girls from experiencing freedom while using social media or socialising on digital platforms.
We will also hear thoughts from the panelists on how women's safety online can be boosted since the Anti-Stalking Bill and Anti-Sexual Harrassment Bill had been unanimously passed in the Parliament.
Plus, with the elections happening, there is hope for positive change in the country. How can policies and politicians do their part to create a safer online space for women and girls?
During this session of discussing about the topic, it will be moderated by Athira Aminuddin and Zuhra Zulkifli and the panelists are #MakeSchoolASaferPlace advocate Ain Suhaiza Saiful Nizam and Content Forum Executive Director, Mediha Mahmood.
Watch Women & Girls: Abuse in the Digital Sphere on www.sinardaily.my and Sinar Daily's Facebook page, at 1pm today (Tues), Oct 18.
Source: https://www.sinardaily.my/article/182179/malaysia/relatable-talk-show-to-discuss-on-safety-of-women-and-girls-in-the-digital-sphere?fbclid=IwAR2RL6GE-dxo8XRGxttBbv8pX4hnQFPuLTHVW64FNvanWu1UWSfkVaS5xQw, October 18, 2022