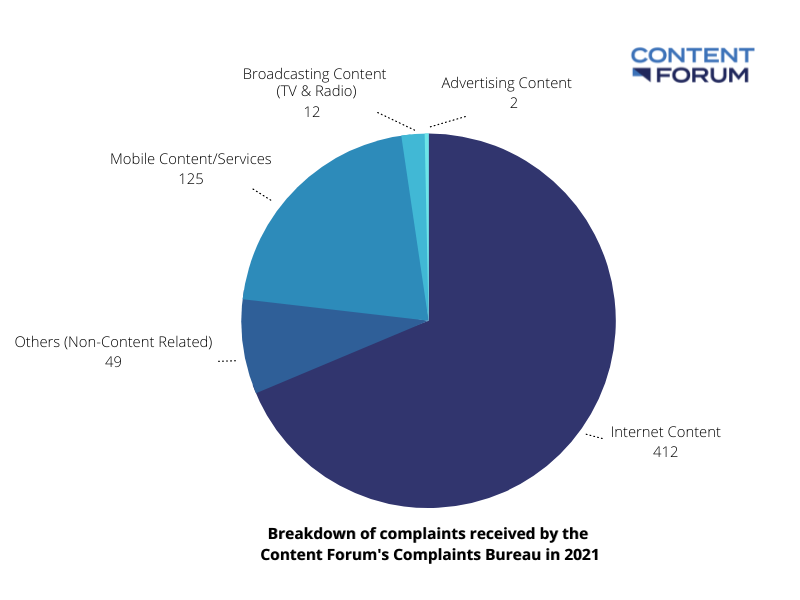 PETALING JAYA: Inappropriate or sensitive content on the Internet, particularly social media platforms, made up the majority of complaints lodged with the Communications and Multimedia Content Forum's Complaints Bureau last year.
The Content Forum, an independent organisation that oversees and promotes self-regulation of content, said in a statement Thursday (Jan 13) that 412 or 69% of the 600 complaints it received were related to Internet content.
"This is a significant increase from 169 similar complaints in 2020.
"It involves content found on heavily used platforms like YouTube, Facebook, Twitter, Instagram, TikTok and Snapchat, to name a few.
"These platforms contain a massive amount of unfiltered and unregulated content that are consumed by consumers of all ages every day," it said.
The Content Forum added that it receives complaints from the public via its Complaints Portal, email or letters regarding issues ranging from advertising to broadcasting and mobile content.
In encouraging a safe virtual space for all, Content Forum executive director Mediha Mahmood said consumers and content creators should practice self-regulation.
"All social media platforms have their own community guidelines so if you see anyone breaching them, use your right to lodge a report.
"If you see content that you personally find offensive but doesn't breach these guidelines, then exercise your power to block, mute or unfollow," she said.
She added that a useful resource for self-regulating against inappropriate or harmful content is the Malaysian Communications and Multimedia Content Code (Content Code), which is a set of guidelines outlining best practices and ethical standards for content creation and consumption across all digital media platforms.
She encouraged Internet users to review their privacy settings, adopt parental controls, strengthen passwords, verify connections, avoid oversharing and be vigilant when using the Internet.
Content Forum is registered under the Malaysian Communications and Multimedia Commission (MCMC) and designated by the Communications and Multimedia Act 1998.
It consists of key players in the content industry, which includes advertisers, broadcasters, content creators or distributors, audiotext hosting service providers, Internet service providers and civic groups.
Its Complaints Bureau is empowered to address all complaints relating to content disseminated over electronic networks.
This includes investigating possible breaches of the Content Code, mediating disputes, adjudicating cases, publishing orders and imposing sanctions where necessary.