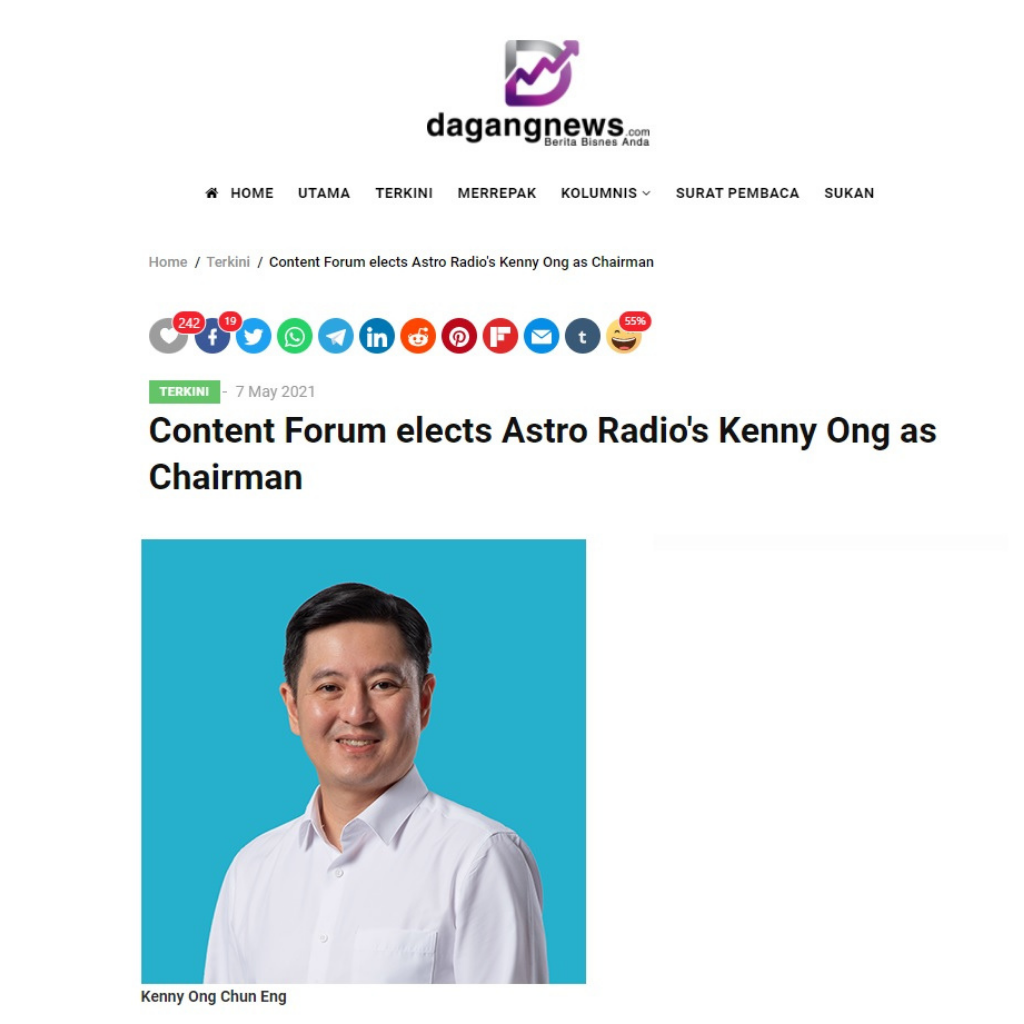 Kuala Lumpur, 7 May – The Communications and Multimedia Content Forum (the Content Forum) has elected Astro Radio CEO, Kenny Ong Chun Eng as its new Chairman at its recently  concluded Annual General Meeting.
The appointment will see Ong helming the position with effect from 5 May 2021 for a two-year term, succeeding outgoing chairman Dato' Khairul Anwar Salleh, CEO of Media Prima Television Networks.
As Chairman, Ong will head up the council that sets the agenda on building a strong and agile self-regulatory framework for the communications and multimedia content industry.
Together with members of the Council, he is responsible for executing strategies to achieve the vision of the Content Forum, which includes facilitating self-regulation and establishing best practices necessary for the growth of the content industry and the protection of its consumers.
"I am truly humbled and thankful for this responsibility entrusted to me, which is a privileged one that cannot be taken lightly. I look forward to not only uphold, but raise the bar on the good work that has been done by the Content Forum since its inception to govern content by self-regulation and assist all its organisations and members to uphold the Content Code's objectives and principles," he said.
He alluded that the recent growth of the industry has necessitated a robust and dynamic approach in upholding the Content Forum's objective while promoting self-regulation and adherence to the Content Code.
"Due to disruptions in technology, the content industry in Malaysia has evolved greatly in the past decade from a one-way direction of information and content to what is now an extremely complex web of content creators and distributors. This renders regulation and oversight more challenging.
"Over the last 20 years, our industry, made up of various organisations, have proven competent in self-regulating content and managing a Content Code that balances creativity, innovation and healthy industry growth whilst protecting Malaysian culture, harmony and values," said Ong.
"The challenge for us now is to self-regulate and continuously update the Content Code that caters to a world of multiple complexities resulting from a new era of User Generated Content such as piracy, fake news, online scams, cyberbullying, hateful messages, e-commerce complaints, invasion of privacy and misleading information on products, services and platforms.
"At the same time, it is equally important to identify and help manage the emergence of new industries and players such as OTTs, live-streaming platforms, e-sports and the proliferation of social media influencers and KOLs," he added.
In this regard, he said that effective and extensive public education regarding content regulation and emerging technologies is key to realizing the objectives of the Content Forum. Ong also added that consumer complaints and feedback remain a cornerstone of the Content Forum's policies and processes.
To achieve the objectives and his vision for the Content Forum, Kenny Ong will leverage his tremendous wealth of industry knowledge and experience, gleaned throughout his illustrious career which spans more than 25 years.
As the CEO of Astro Radio, he is responsible for overseeing the outfit's strategic direction, particularly related to brands and talent. He also oversees Rocketfuel Entertainment which spearheads talent-driven digital content across the Astro Group's platforms.
Prior to joining Astro, Ong was the Managing Director of Universal Music Malaysia, where he was instrumental in increasing investments and accelerating development of local content and artists; the transfer of global practices in content creation, marketing and distribution to the local industry; and helping to export and promote local content to the region and across the globe.
Ong has also served as the Country Head, Malaysia & Singapore for the Unilever Network, where he created a safe, credible and new eCommerce network both locally and regionally that balances the financial needs of the company while protecting its distributors and consumers with transparent and verifiable product and pricing information. – DagangNews.com