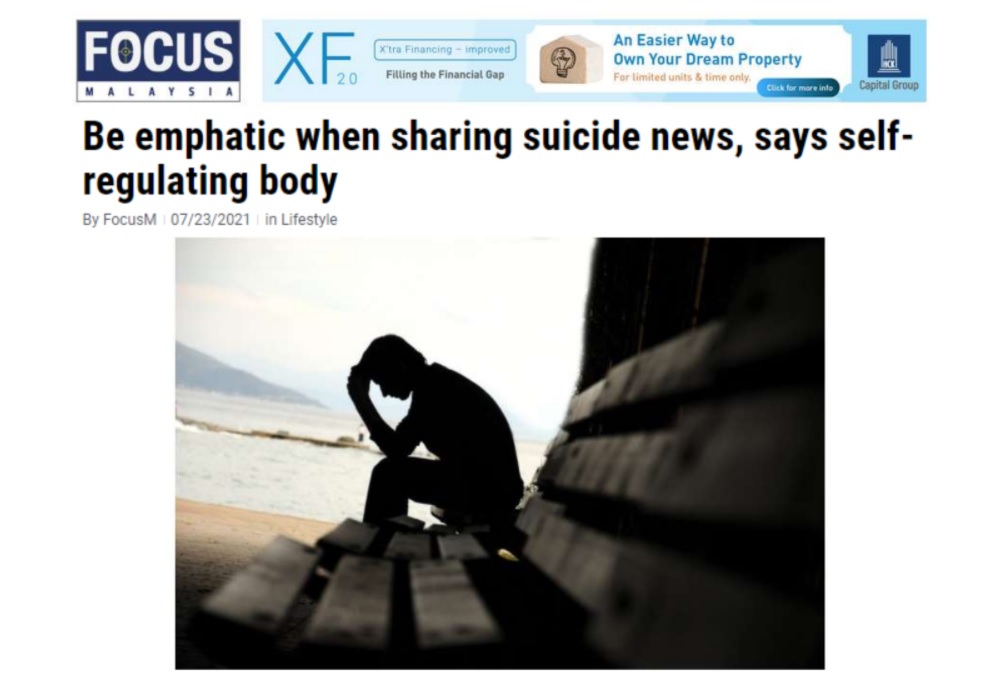 THE Communications and Multimedia Content Forum of Malaysia is strongly urging media professionals,content creators and the general public to self-regulate themselves when sharing news of suicides.
"Irresponsible reporting of suicides is recognised as a risk factor, since it may trigger suicidal behaviour, especially when it involves sensationalism and explicit reporting of the methods being used," said Content Forum executive director Mediha Mahmood.
"While the Content Forum acknowledges the newsworthiness of these cases, media practitioners should also be sensitive as to how their reporting can exert considerable impact on the victims' families as well as the community, especially those with a higher vulnerability to suicide."
The statement follows the increasing number of suicide cases in the country amid the pandemic and its aftermath, which have been taking a huge toll on the mental health of the rakyat. Between January and May of this year alone, there were 468 suicide cases reported to the police, which is a significant increase of 631 reported cases in the whole of 2020 and 609 in 2019.
According to the World Health Organisation's (WHO) 2017 media guidelines on suicide reporting, those which have been sensationalised or includes excessive details may spark 'copycat' suicides.
However, responsible and ethical reporting of the matter of including help-seeking information may encourage people to seek reach out for help in terms of their mental health.
In fact, even the Guidelines on Media Reporting of Suicide issued by the Ministry of Health (MOH) mentions to avoid details of the method being used, publishing photographs of the deceased or depicting suicide as a method of coping with problems in any way.
The same also applies to social media users, who should also heavily consider whether or not to share the news in the first place, as it may not have been properly filtered.
"In their eagerness to share news about suicide, some may forget that the news involves real people and real emotions. Exposure to suicide stories can be emotionally disturbing, even for the readers, so we should always treat such issues with respect and empathy," Mediha added. – July 23, 2021